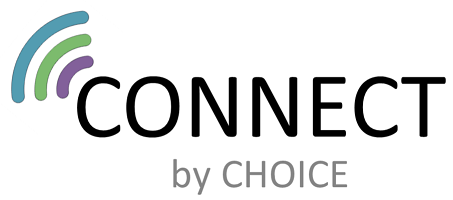 CONNECT is our new virtual programming service for currently enrolled CHOICE participants! Connect with your friends and CHOICE Instructors online for all your favorite classes and activities. We've got an incredibly talented group of instructors who will offer an array of programs including: health & wellness, art, BINGO, dance, math & money, friendship club, music, coffee club, games and more! You can view our full array of classes, inlcluding course descriptions, by viewing our course catalog here.
What to Expect During a Class
1. On the day and time of your desired class, click on the google meet link you received via email.
2. Enter the virtual class and see your instructor and classmates on the screen! You may be in a small group or a large group, depending on the type of program you're doing.
3. Greet your classmates and then your instructor will walk you through introductions, give you an overview of class and also go over how the class will conclude.
4. Your instructor will then mute you and your classmates and walk you through some basic functions of Google Meet including, muting, closed captioning, how to change your view and how to use the chat feature.
o Note about muting: the purpose of mute is not to silence you, but rather to allow everyone to be heard and understood during the class. Multiple people talking at once causes feedback and makes it very difficult to hear your instructor. This is not our preferred way of communicating, but it allows for taking turns and helps things work most effectively on a virtual platform.
5. To signal when you'd like to talk, please raise your hand. Your instructor will call on you and then YOU will unmute yourself. Your instructor will have taught you how to do this at the start of class.
6. After the class, your instructor will do a group wrap-up and possibly give you an "assignment" for the next class!
Tips for a Better Experience
o Please find a quiet place to join your class so that you're not distracted by things around you.
o Please mute phones and turn off radios, TV's and other background noise.
o If you need to excuse yourself during the class for a moment, please ensure you are muted.
o Please give us your feedback! We want to make CONNECT a fun and enjoyable experience for you!
o Questions? Please contact us at connect@choicejobs.org
We have included some FAQs below. If you're ready to get started, view our current class offerings, or sign up please contact us at connect@choicejobs.org. We can't wait to see you soon!
Frequently Asked Questions
Q: How do I know which classes are offered and when?
A: Check your email and the CHOICE Facebook page for frequent updates on class schedules.
Q: How do I sign-up for an activity?
A: CHOICE will email you a link to register for classes via Eventbrite, the same platform we've used for our events.
Q: What happens after I sign-up for a class?
A: You will receive an email with the link to a Google Meet virtual class, 24 hours prior to the program. You will also receive a reminder email with the access information 5 minutes prior to the class. Emails may contain important information such as supplies needed and special messages from your CHOICE instructors!
Q: What is Google Meet?
A: Google Meet is a video-communication service by Google. Simply click on the Google Meet link send to you to connect with your friends and CHOICE Instructors. Please note, you do NOT need a google email to use Google Meet, any email will work!